Microsoft Saves Face with Windows 10
Microsoft admits it went far astray with its overly enthusiastic grasp on flat app design and overhauling the OS as we know it, frustrating a whole lot of Windows' 1.2 billion users. Luckily (insert 1.2 billion sighs of relief here) Windows has decided to remedy their mistake with Windows 8 and 8.1, and is expecting to roll out Windows 10 sometime this fall. 
The best part? All you irritated Windows 8 users can upgrade free for a whole year. Gone is the controversial Start screen formatted app-style, that people were constantly trying to switch away from in favor of the more Windows 7-ish desktop with the traditional taskbar, explorer, etc. If you choose, you can expand the new Start menu into a full-screen Start page that looks similar to the Windows 8 version. Windows 10 happily looks more like Windows 7 than Windows 8, and can be run across all devices from desktops to tablets and phones. The Start menu is (blessedly) back (though why they did away with it in the first place boggles the mind), and it will keep the live tiles of Windows 8 and 8.1, which doesn't hurt visually. These tiles will include the utilization of Windows' "universal apps", which are the same apps you see on mobile devices, and work pretty much the same way.
Other appealing new features:
Another interesting new feature is the addition of Cortana to the search option. Cortana, Microsoft's virtual assistant, has been a part of the company's mobile operating system, Windows Phone, since Windows 8.1 was released, but the introduction of a desktop version is a big step. Windows 10 has a new search button on the taskbar, and Cortana appears at the top of that search when clicked. Just like a Windows Phone, you can type to Cortana to ask it to remind you to do things, or to search for content locally in apps or on the web. Cortana can hear the user's voice through the microphone, or it can be controlled through typing commands. Cortana will also learn the user's preferences and, over time, will be able to provide better recommendations. The Cortana reminders should show up in your Action Center, the little icon in the bottom right-hand corner of your screen. Expect to see a lot more information there now that Cortana has been enabled!
One of the most attactive new options is the ability to view all open windows in "task view", allowing you to multitask like a beast and create multiple desktops for better window organization. Flip your laptop around, and Windows will go into desktop mode. Apps turn back into desktop windows that are easier to move around with a mouse, and you'll see your desktop again.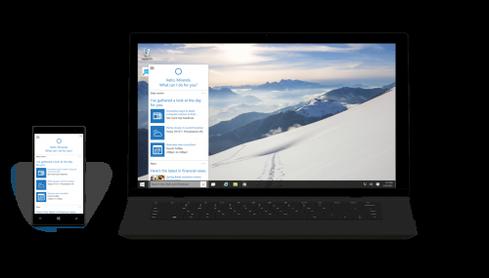 Microsoft's venture into the mobile market has left much to be desired, with their smartphones practically dropping off the grid, but they seem to be more focused  on the user's universal experience across all devices, as opposed to the experience of any single device. Not only is it meant to be a replacement for Windows 7, Windows 8.1, and Windows Phone 8.1, but it is meant to be the transition to a new world of "Windows as a service," as well as opening up a bunch of new software features and new kinds of hardware. This modernized strategy is bound to set Microsoft apart. 
All this seems far more likely to appeal to Windows 7 users on desktop PC's than Windows 8 did, and should especially be more enticing to the droves of people who completely bypassed the last version of Windows. End result- good idea, Microsoft. The world forgives you.